---

︎︎︎ The wandering spirit of flowers, an editorial featuring 6 images of flowers, for the 10th edition of A Part Publications.

Find it here

.
---
︎︎︎ For this collaboration, I was asked to produce 3 illustrations based on an article entitled "We'll change everything but ourselves" by Davian Ho and Isaac Lipsky. The latter survey the role of biotechnology in the age of disastrous climate change, and asks the intentionally provocative question: could we gene edit our way out of this mess? This piece imagine a new kind of natural world, modified for climate resilience. Although the topic of the piece, climate change, is quite sobering, this piece paints an optimistic picture of a world in which synthetic biology and bioengineering could potentially save us from a climate disaster. The illustrations therefore reflect these possibilities, and are both fantastical and grounded in reality, helping people to re-imagine what our Earth might look like if we were to rearrange everything. Each of them represents respectively: A new form of Forest, Garden and Ocean.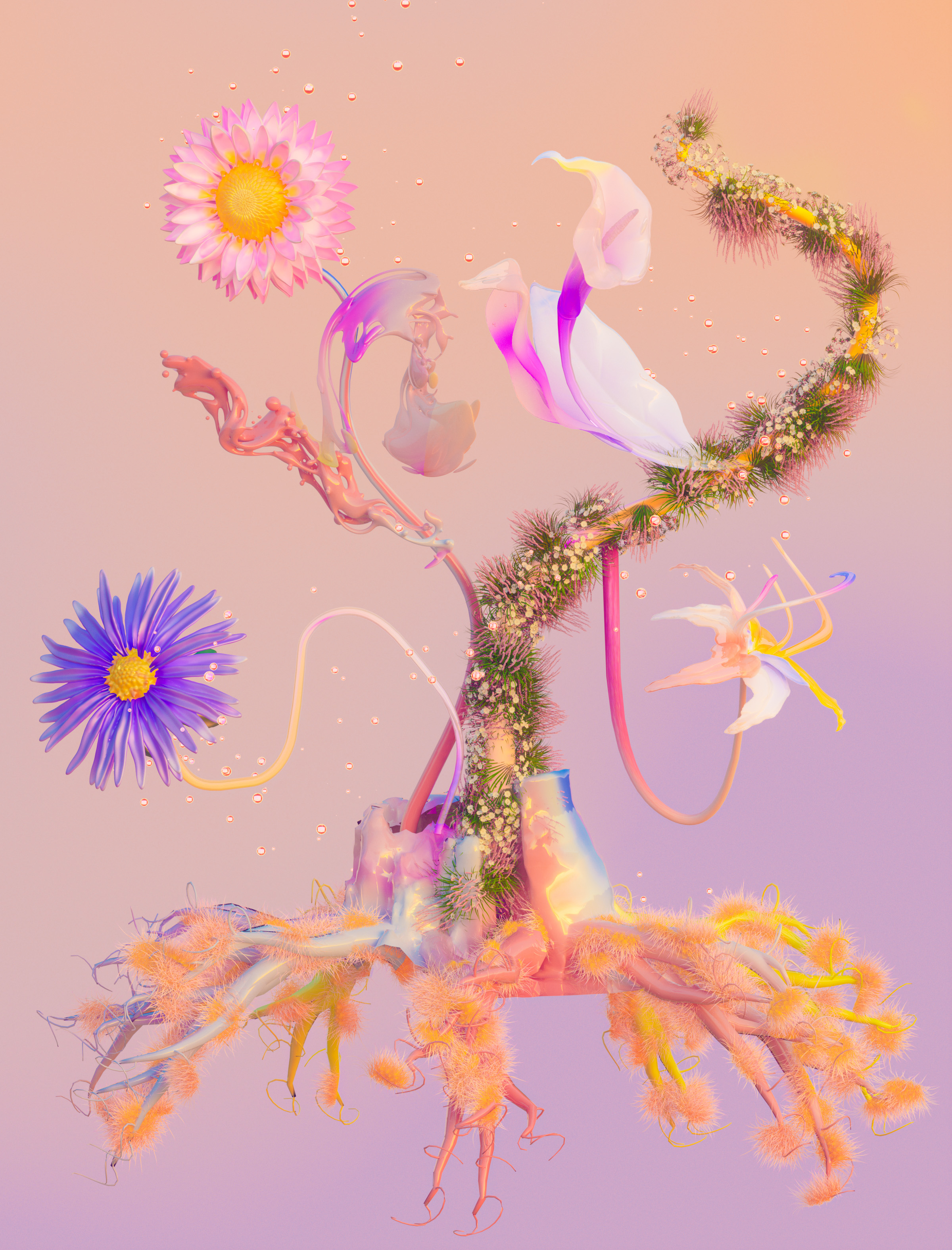 ---
︎︎︎ For their new collection Love FantasYIE, I collaborated with YIE YIE to create a game-themed futuristic world. I wanted to represent a powerful, adventurous and mischievous muse, who with her YIE YIE accessories is not afraid to brave the craziest challenges and the most challenging adventures. The accessories are symbols of strength, and allow the spectator to think that everything is accessible thanks to them.

From the art direction, through the modeling of props, and CGI renderings, I wanted to imagine through this cyber-punk universe, a space where the protagonist evolves according to her adventures with the brand's accessories and where the viewer is invited to enter & dream.

---
︎︎︎ I was asked to create a

video

for the Pardon Ams collective party. Nyu, the character, is stuck in a parallel world, and tries to interact with the public, notably through dance.
---

︎︎︎ Garagisme magazine is a magazine specializing in the art around the car. They contacted me to do the illustration for Michael Salu's short story "Phantom".
You can find my work in issue n8:

Turbo Log

.